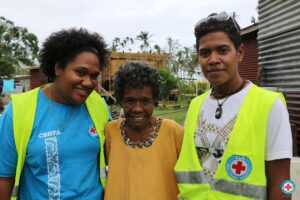 Fiji Red Cross Society (FRCS) was formed as a branch of the British Red Cross in 1952.
We gained recognition as a National Society in 1972, when the government officially acknowledged FRCS as an auxiliary to public authorities and as the only Red Cross Society in Fiji.
In 1973, we attained international recognition when we became the 118th member of the International Federation of the Red Cross and Red Crescent Societies (IFRC).
We are a not-for-profit humanitarian organisation. We have been providing humanitarian assistance to affected communities in Fiji for more than 50 years.
We are committed to achieving a resilient Fiji, free from vulnerabilities, where people are ready to offer impartial and voluntary assistance to those in need.
We are dedicated to building a safe, healthy and resilient society in partnership with local communities and our partners.
We are guided by and committed to the seven fundamental principles, inspired by the spirit of humanity and the strength of our volunteers.
Today, we have 3 Divisional Red Cross Centers around the country.
The National Office of the Society is located in Fiji's capital, Suva where the Central-Division Red Cross Center (DRCC – CE) Team is also based. Our Western Division Red Cross Center ( DRCC – West) office in Lautoka covers the Western Division from Nalawa, in the Province of Ra to Sigatoka.  The Northern Divisional Red Cross Center (DRCC – North) is based in Labasa on Fiji's second main island, Vanua Levu and  covers the Northern Division including Rabi and Taveuni.
We have 16 Branches around the country with more than 300 volunteers. The Branches are located in Rabi, Rotuma, Seaqaqa, Savusavu, Bua, Taveuni, Labasa, Levuka, Rakiraki, Tavua, Ba, Lautoka, Nadi, Sigatoka, Suva and Nalawa.
Should you ever feel the need to bring about a positive change without thinking about anything in return, then join our amazing and incredible team of volunteers.