What we do
The main goal for our resilience program is to increase the resilience of communities in Fiji to disaster through:
Increased resilience and preparedness of target communities for times of disaster.
Enhanced capacity of the Fiji Red Cross Society to deliver integrated disaster management and health services.
Fiji Red Cross Society has effective partnerships and program learning.
*Volunteers taking the lead in community disaster drills.
Outline below are some of the main activities which is currently being undertaken by FRCS to support resilient community by enhancing the branch capacity.
Branch Organisation Capacity Assessment (BOCA)
FRCS embark on the BOCA process in 2017-2018 in which a full coverage of our 16 branches were achieved through the support of the divisional teams. 2021 has been earmarked for FRCS to undergo the second round of this important assessment.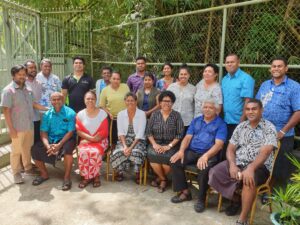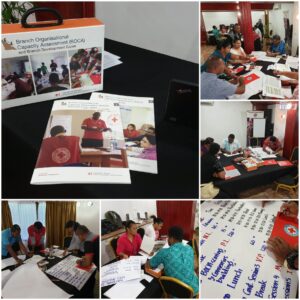 * Regional BOCA Facilitator refresher training conducted in Suva.
2. Community Based Resilience Program (CBRP)
At the community level, this involves supporting communities to increase their resilience to disaster and supporting them to a minimum level of health and disaster preparedness. This preparedness is developed across all relevant areas of the Red Cross mandate in an integrated manner, including vulnerability assessment, community based health and first aid, gender protection, disaster risk reduction, and taking early action against early warnings. Youth engagement, is also a core component of the approach.
Outline below are some major activities:
Red Cross Volunteer Induction and advocacy/dissemination of the seven fundamental principles, code of conduct, child protection policy, gender and Inclusion awareness training.
Basic First-Aid (FA)
Community Based Health and First Aid (CBHFA)
Drinking Water Safety and Security Planning (DWSSP)
Climate-sensitive behaviour, epidemic preparedness, epidemic control for volunteers (ECV), community-based surveillance
Safe shelter design
Fundraising for sustainable operations
Youth engagement activities
Vulnerability Capacity Assessment
Branch Organisational Capacity Assessment
Volunteer Recruitment Process
Community based early warning and early action system
Preparedness for Effective Response
Roadmap To Resilience: