What is International Humanitarian Law?
International humanitarian law is a set of rules which seek, for humanitarian reasons, to limit the effects of armed conflict. It protects persons who are not or are no longer participating in the hostilities and restricts the means and methods of warfare. International humanitarian law is also known as the law of war or the law of armed conflict.
The Geneva Conventions
The Geneva Conventions were designed to protect people's safety, dignity and wellbeing during armed conflict, especially those who are most vulnerable, including children, women, older people, injured and sick people, detained people and people with disabilities.
The Red Cross is involved in humanitarian responses to conflicts around the world. The law can and does work to protect vulnerable people.
Respecting the Geneva Conventions is as important as ever. Though the Geneva Conventions are universally ratified, they are not universally respected. It is still relevant and important to reaffirm that people must be treated with humanity, even in armed conflict. When they are not respected, there can be devastating humanitarian consequences. Basic rules ensure that even enemies are seen as human beings.
Emblems of protection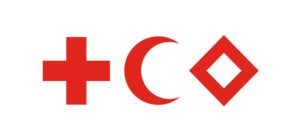 The red cross, red crescent and red crystal are international emblems of protection during armed conflict. In any language they mean 'Don't shoot!' – this person, site, vehicle or equipment is not part of the fight, but is providing impartial assistance. Read more about the Red Cross emblem.