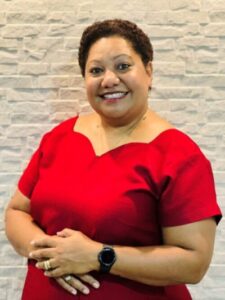 Suva, Saturday 05th November, 2022 – Fiji Red Cross Society welcomes Ms. Ragigia Dawai as the newly appointed Director General.
Ms. Dawai brings to the role decades of experience in marketing, communications, and brand management, project and crisis management, product sales and distribution, strategic product and brand planning, delivering high impact initiatives in tourism, banking and telecommunications to empower local communities.
She led the ground operational management of crisis and social work for Digicel Tonga in the 2018 in the aftermath of Tropical Cyclone Gita and more recently, in post recovery following the tsunami and Hunga Tonga Hunga Ha'apai Volcanic eruption in January 2022. In this role, Ragigia was instrumental for direct liaison with the Tongan Government, various stakeholders, businesses, consumers, and the community at large, helping to restore Digicel's connectivity to the rest of the world as well as organizing humanitarian aid distribution to affected households and businesses across the Kingdom.
Ms Dawai has vast experience in building up and managing diverse teams and through the years, has developed a strong interest in mentoring and coaching young professionals.
Ms Dawai returned to Fiji in April this year, having spent six years living in Tonga, where she was Head of Consumers Sales and Distribution, Digicel Tonga, before joining the Digicel Pacific Hub Operations based in Suva as the Regional Strategic Marketing Lead supporting five markets (Fiji, Samoa, Vanuatu, Tonga and Nauru).
Earlier this year, Ms Dawai was awarded the International Woman of the Year for Digicel Pacific, in recognition of her leading role in the development and mentoring of women across the Tonga business as well her leadership in driving several charitable projects by Digicel, in the Kingdom.
In formally announcing her appointment, Fiji Red Cross President, Mrs. Sala Toganivalu-Lesuma said:
"We are strengthening the organisation to meet the changing needs of communities and the changing environment we live in. We have just launched our 5year Strategic Plan and delivering to that, requires a strong, yet empathetic leader, who will help shape high performance staff and volunteers for this new journey.  Ragigia brings a wealth of corporate and statutory body experience and a proven track record cultivating motivated teams able to deliver organizational outcomes to the highest of standards".
"These are exciting times for Fiji Red Cross and on behalf of National Board, we welcome Ragigia and look forward to working alongside someone with her knowledge and multi-sector experience. I have no doubt that the Fiji Red Cross staff, volunteers, and the many communities we serve, will be in good hands under her leadership."
Ms. Dawai will take up office from the 14 November 2022.  She is the Fiji Red Cross's eighth Director General, and the fourth woman to lead the 800-person-strong humanitarian organisation in its 52-year history.
Ends

For more information, contact:
In Suva: Luisa Turaga, +679 9987949, luisa.turaga@redcross.com.fj
About Fiji Red Cross Society
Fiji Red Cross Society is a dynamic humanitarian organisation that has been providing humanitarian assistance to communities in Fiji for more than 50 years. Our programs are delivered through a network of 16 Branches and 3 Divisional Red Cross Centres.