4196 households assisted by Fiji Red Cross Society after TC Yasa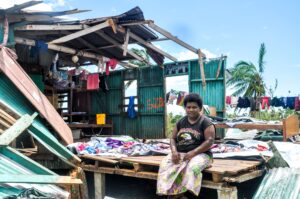 A total of 2,802 households have been assisted so far by the Fiji Red Cross Society (FRCS).
FRCS Director-General, Ms. Ilisapeci Rokotunidau said that staff and volunteers have been working around the clock to ensure that everyone affected by TC Yasa have been assisted.
"This is a difficult time in the year for those who have been affected to be suffering and I thank the volunteers whose energy and compassion in motion is amazing".
"We continue to reach affected families in the hardest hit areas, to conduct assessments and distribute relief items in a timely manner" said Ms. Rokotunidau. "We have also deployed another team for Phase 2 which will address the gap areas from the first round".
Severe Tropical Cyclone Yasa has left a devastating trail of destruction in the Northern parts of Fiji and the Fiji Red Cross Society volunteers have been deployed to respond to the needs of those affected through the provision of non- relief items.
Thirty five years old, Unaisi Dikau of Nakorovou was very grateful for the assistance received from the Fiji Red Cross Society. Unaisi who is amongst the 93,000 people who were affected by the category 5 Tropical Cyclone Yasa was in tears after their home in Nakorovou was destroyed by the cyclone. She made it through the night with her family safely, but the next day brought a sobering realization: Most of their belongings was lost.
"I was speechless when I saw my totally damaged house. Thoughts was spinning out of control. How will I feed my children. Where will my children stay. How we going to survive.
We were very happy that Fiji Red Cross Society was the first organisation to come and assist us and we are thankful to the team for thinking of our families during this hard times", said Una.
To date, the Fiji Red Cross Society has delivered a total of 9125 relief items to 4196 households throughout Fiji.
The relief supplies include; tarpaulins, shelter tool kits, kitchen sets, mosquito nets, jerry cans, blankets, solar lanterns, hygiene kits, disability kits, dignity kits and black packs (household) which contains clothes.
ENDS
Back To All Stories